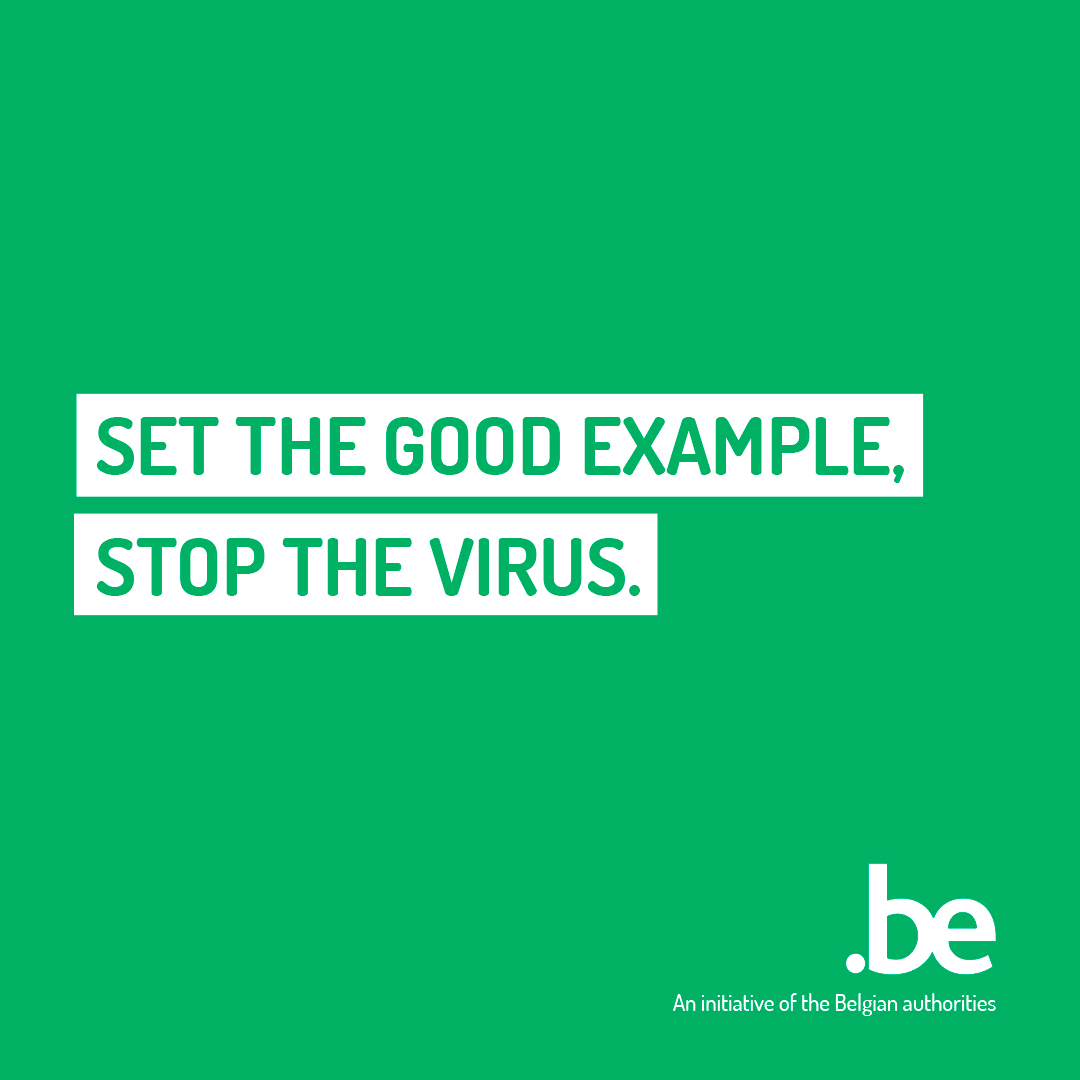 SET THE GOOD EXAMPLE, STOP THE VIRUS.
An initiative  of the Belgians authorities
The Belgian government is launching a major information campaign on 9 April, so we can continue the battle against coronavirus together.
Although the safety measures have now been in force for a little over three weeks, we need to stay vigilant and continually remind ourselves of the essential steps for combatting the COVID-19 pandemic together. All national authorities, at federal, regional and community level, are working together to inform the population.
The Belgian authorities have continued the information campaigns since the start of the pandemic and will keep communicating about the measures needed to stop the spread of the virus.
The campaign, which the FPS Chancellery of the Prime Minister is co-ordinating at a federal level, has come about in collaboration with the FPS Public Health and the National Crisis Centre, in consultation with the communities and regions and with their full co-operation. It was developed by the mortierbrigade agency.
A campaign for the general public with maximum dissemination
The first step is to remind the population at large of the most important messages:
respecting hygiene measures
respecting social distancing
respecting safety measures
persevering and staying calm
These messages are intended to remind everyone that we need to keep going, even though we might feel like we've had enough and despite the good weather. They will be disseminated via radio and TV slots, social media, Internet banners, posters or screens in public places, in bus shelters, supermarkets, pharmacies, on cash machines, etc. These will be in the three national languages along with English.
All the guidelines have been worked into the subtitled TV slots and minimalist animated films, with the intention being to respect these better today in order to enjoy life and those close to us as much as we can tomorrow. The messages via radio, print, Internet or social media will adopt the style, colours and tone of the messaging from the Crisis Centre and the FPS Public Health. This will maintain a coherent and effective approach to all the government's efforts in terms of communication.
https://www.info-coronavirus.be/en/